<![if !vml]>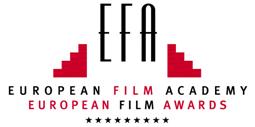 <![endif]>                            <![if !vml]>
<![endif]>
Communiqué#19/2006
EUROPEAN FILM ACADEMY DOCUMENTAIRE 2006 –  PRIX ARTE:
NOMINATIONS ET MEMBRES DU JURY DOCUMENTAIRE
La European Film Academy a annoncé les nominations dans la catégorie EUROPEAN FILM ACADEMY DOCUMENTAIRE 2006 – PRIX ARTE. Au total, huit documentaires ont été retenus. Les membres du Jury du documentaire se retrouveront cette année à Berlin pour visionner les films nominés et designer le lauréat du EUROPEAN FILM ACADEMY DOCUMENTAIRE 2006 – PRIX ARTE.
Choisis par la European Film Academy et Arte, les membres du jury sont;
Nino Kirtadzé – réalisateur , France
Thomas Riedelsheimer – réalisateur , Allemagne
Dorota Roszkowska – productrice, Pologne
Les documentaries nominés sont:
37 USES FOR A DEAD SHEEP
de Ben Hopkins, UK

DIE GROSSE STILLE (Into Great Silence)
de Philip Gröning, Allemagne

DREAMING BY NUMBERS
de Anna Bucchetti, Pays-Bas

LA CASA DE MI ABUELA (Grandmother's House)
de Adan Aliaga, Espagne

MARADONA, UN GAMIN EN OR
de Jean-Christophe Rosé, France

MOADON BEIT HAKVAROT (The Cemetery Club)
de Tali Shemesh, Israël

RYBAK I TANTSOVSHITSA (The Fisherman and the Dancing Girl)
de Valeriy Solomin, Russie

UNSER TÄGLICH BROT (Our Daily Bread)
de Nikolaus Geyrhalter, Autriche
Berlin, le 23 Octobre, 2006
Relations Presse France
Michel Burstein/Bossa Nova
32 bd st germain 75005 Paris
Tél : 01 43 26 26 26
bossanova@compuserve.com
www.bossa-nova.info
Relations Presse Internationale
Pascal Edelmann
EUROPEAN FILM ACADEMY
Kurfurstendamm 225
10719 Berlin
Germany
tel +49 - 30 - 887 167 - 0
fax +49 - 30 - 887 167 - 77
press@europeanfilmacademy.org
www.europeanfilmacademy.org
EUROPEAN FILM AWARDS 2006: Varsovie, 2 dec. 2006
INI: CREATIVE ARTISTS AGENCY * DANISH FILM INSTITUTE * EGEDA * FYR MACEDONIA MINISTRY OF CULTURE * MOTION PICTURE PUBLIC FOUNDATION OF HUNGARY * RAI CINEMA * UNITED INTERNATIONAL PICTURES * WARNER BROS *
PARTENAIRES ET SPONSORS: * FFA German Federal Film Board * Medienboard Berlin-Brandenburg * German State Minister of Culture and the Media * Stiftung Deutsche Klassenlotterie Berlin * Jaguar Cars Limited * MEDIA Plus Programme of the EU * TNT * UIP
Avec le soutien du Ministère de la Culture et de l'Héritage National Polonais, la Ville de Varsovie, l'Institut du Cinéma Polonais et la Fondation du Film de Varsovie.